SB 1489 is dead
. It's hard to say which was a bigger flop:
SB 1489
or its 2008 special session look-alike,
SB 6016
. Both of these bills were nearly identical. The 2008 version stayed alive for only 4 days but did get through the Senate
before it failed
. The 2009 version, SB 1489, was introduced on January 22nd and
stricken from the docket
of pending bills by Vogel herself on February 4th – before it ever even came to a vote in a committee.
We've previously outlined why SB 1489 (like its predecessor SB 6016) was a bad bill. Had it become law, it would have allowed the deed to an owner's property to be changed in unforeseen and undesirable ways without that owner's consent. The amendment provisions in the deed itself would be ignored. The prospect that "in whole or in part, any provision of a declaration" could be changed would have manufactured uncertainty for tens of thousands of property owners in associations in every corner of the state. That uncertainty would have destroyed property values across Virginia, all in an effort to meddle in a lawsuit involving Lake Holiday, the Bemis Case. That case is now before the Virginia Supreme Court.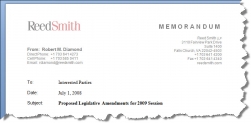 That SB 1489, like SB 6016, was nothing more than an attempt to tip the outcome of an active court case is
beyond dispute
. Shortly after SB 6016 died in the Virginia Housing Commission on
6/26/08
, Bob Diamond and
Todd Sinkins
went back to work to try to change the law to tip an active court case in favor of their clients. Diamond represents Miller & Smith in the Bemis Case, and Sinkins' firm,
Rees Broome
, was Lake Holiday's initial counsel in the case before withdrawing.
The changes Diamond and Sinkins came up with are outlined in a July 1, 2008 memo to "Interested Parties." This memo proposes even more far-reaching code changes than Vogel included in SB 1489. This proposal and Vogel's bills share a central theme: to permit re-writing property deeds without the consent of owners Diamond's description of honoring the terms outlined in a deed to amend it: "impractical." We can apply Diamond's reasoning thusly: If a small property owner has rights granted in a deed and Miller & Smith, one of the largest developers in the state, doesn't like that, well, that's simply "impractical" and the law needs to be changed. In his testimony to the Virginia Housing Commission, Sinkins characterized re-writing owners' deeds over their objection as a "minor" change.
Diamond and Sinkins offer up this contradictory message acknowledging the impact of their proposal:
Although these changes may have an impact on the Lake Holiday project, we do not think that they can affect the outcome of the current litigation.
Perhaps they claim to believe that their proposed changes can't affect the outcome because they know that an attempt to retroactively change vested property rights is unconstitutional and won't pass careful scrutiny. It's about time that Diamond and Sinkins learned the Code of Virginia is not their personal rule book to deliver the whims of their clients.
In late December, 2008 the Lake Holiday board met to consider the changes Vogel would later introduce in the Virginia Senate. Despite a dissent from 1 board member, the Lake Holiday board approved pushing the legislation to solve their "problem."

Any claim that Vogel's effort is anything but an effort to tip the outcome of an active court case doesn't pass the laugh test.
Now that SB 1489 is dead, it's important to reflect on the future. That future rests squarely with the Virginia Supreme Court. Backed by hundreds of years of Virginia property law and countless decisions from the state's highest court (including 3 on point cases, the most recent of which was decided in January 2008), the Bemis plaintiffs take the position that their property rights and obligations are to be found – and can only be found – in a properly recorded deed in the chain of title to their individual properties. The Bemis plaintiffs are fully prepared to honor those deed obligations.
Lake Holiday has a history of collecting fees and dues far above those authorized by the applicable deeds. Its officers and lawyers have known about the unauthorized collection for some time. That creates a sticky and serious legal problem. To solve that problem, Lake Holiday would like to unilaterally change those deed obligations. That's why Vogel, following the direction of Diamond and Lake Holiday, tried to change Virginia law to permit re-writing property deeds.
Fortunately, they failed a second time.