LHCC's dues are too high by as much as 46%, and spending is out of control. Worse still, LHCC's directors want to make a profit of almost $1 million on the backs of members in 2007.
To fully understand this, we need to look at LHCC's original budgets for 2006 and 2007 and correct them for several financial management mistakes. Since we'll be developing our own corrected budgets, we'll refer to the budgets available on LHCC's website as of today (and linked above) as the "original" budgets and our own versions as the "corrected" budgets.
LHCC\'s original budgets contain 3 fundamental financial management mistakes:
they do not contain prior period data
they mistakenly classify expense reimbursement as revenue
they do not accurately present a budget for Total Income
The first 2 mistakes obscure the fact that expenses are skyrocketing out of control. The third mistake covers up the fact that LHCC's directors are budgeting a huge profit for 2007 – despite the requirement in the Association's own governing documents that they operate the Association without making money!
Providing prior period data in financial documents enables easy comparison. That's why just about every financial statement includes this information. Omitting prior period data can hide glaring problems. For example, consider "Total Administrative Expenses." Total Administrative Expenses for 2007 are budgeted to increase a whopping 64% over the 2006 budget, from $233,885 to $383,960. It's next to impossible to glean this important information because the original 2007 budget presented by LHCC contains no comparison data whatsoever.
In LHCC's original 2006 budget, LHEUC reimbursed LHCC for $95,495 of expenses – 32% of LHCC's expenses for these categories. These expense reimbursements should be reported as reductions in LHCC's expenses rather than revenue, as LHCC reported them. Expense reimbursements are not revenue. Reducing LHCC's budgeted expenses for 2006 by the amount of the LHEUC reimbursement for that expense category reveals the real magnitude of skyrocketing expenses. Budgeted Total Administrative Expenses for 2006 drop from $233,885 to $218,556, and budgeted Total Personnel Expenses drop from $475,106 to $398,460. Therefore, LHCC's real Total Administrative Expenses are budgeted to increase from $218,556 in 2006 to $383,960 in 2007, and Total Personnel Expenses to increase from $398,460 to $648,916. Just these 2 categories increased $415,860 from the 2006 to the 2007 budget! That sentence is so important, it bears repeating the point: just 2 expense categories are budgeted to increase over $400,000! That is out of control spending, pure and simple.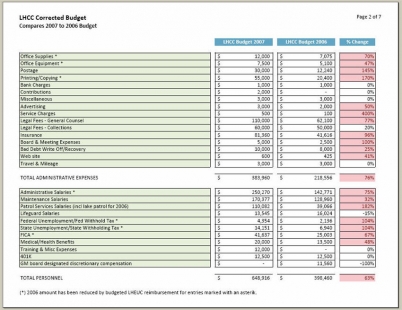 Our corrected 2007 budget, a page of which appears above, addresses the first 2 financial planning mistakes by presenting the 2007 budget next to the budget for 2006, along with percent change, and by deducting LHEUC's 2006 budgeted expense reimbursement from the 2006 numbers. Adjusted 2006 numbers are marked with an "*", and any line item with more than a 20% increase over the corresponding 2006 number is marked in red. Unfortunately, it shows a lot of red ink because expenses are out of control.
To address the third mistake, we have to make further changes to our corrected budget. Despite the fact that LHCC uses the term "Income" in its budgets, these budgets do not accurately project Income. They are really cash flow budgets. For example, the budget for 2007 contains a $610,000 entry for "Loan for Clubhouse Renovation" and this amount is added into the total of "Total Income." Borrowing money is not income. Similarly, the 2007 budget prepared by LHCC's directors contains a $450,000 entry marked "Transfer from Clubhouse Reserve" that is added to Total Income. It doesn't take a CPA to realize that transfers between accounts are not income. If they were, everyone would transfer money from a savings to a checking account and back again, producing income and becoming rich in the process. Moreover, investing in capital assets, like a major renovation of the Clubhouse, is not an expense – it is an investment. Investments are not deducted from revenues as if they were expenses.
Understanding LHCC's income is very important because LHCC's organizational purpose is to operate at break-even – not to produce income. LHCC's Articles of Incorporation clearly state:
This Association does not contemplate pecuniary gain or profit to itself….
But that's exactly what LHCC's 2007 budget will produce – a huge profit of $904,074! To understand how this is the case, we have to review LHCC's budgeted income for 2007.
To budget LHCC's income, we need to adjust LHCC's original budget by removing entries from the budget that do not impact income. As we discussed above, borrowing money is not an income-producing event. Transferring money between accounts is not an income-producing event. Investing in capital assets is not an income-related event (except to the extent it creates depreciation expenses). LHCC's original budgets include numerous entries that do not impact income and need to be removed. Our corrected income budget for 2007 strips out these non-income related events and includes a comparison to a similarly adjusted budget for 2006. The result? LHCC's directors have set assessment levels that will produce budgeted income of $904,074 for 2007! And this amount understates LHCC's projected profit because we've completely removed anticipated lot sales from our corrected income budget. These lots likely have a low cost basis. Thus, selling them will produce big profits.
Our corrected income budget shows that LHCC is budgeting a profit of nearly $1 million for 2007. Therefore, after eliminating the budgeted $420,000 of questionable capitalization fees, dues can be slashed by 25% and keep LHCC's budgeted income at break-even without making any change to LHCC's budgeted expenses. If the $415,860 budgeted increase in Total Administrative Expenses and Total Personnel Expenses is also undone, dues can be reduced by as much as 46% and return LHCC to the break-even position required by its governing documents. This reduction doesn't require slashing expenses. It just requires holding 2007 expenses at the 2006 level for 2 expense categories.
Some of you may recall Sue fuerst's goofy, hate-filled letter. In it, she praised Chris allison because he:
…executed his presidency as though Lake Holiday were a Fortune 500 company.
Lake Holiday is not a Fortune 500 company. Big spending politicians, working overtime trying to be something they quite obviously are not, hurt us all.