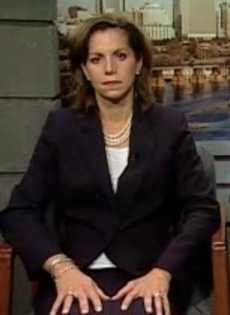 Most sequels are flops. That's why good actors usually stay clear of them.
In June 2008, Sen. jill holtzman vogel (R-27), supported by Sen. Richard Saslaw (D-35) and Del. Beverly Sherwood (R-29), introduced SB 6016, a bill that would have allowed re-writing property owners' deeds without their consent. For very good reasons, that bill failed to become law.
At the 2009 session of the Virginia legislature that began on Wednesday, January 14th, Vogel returned with her sequel: SB 1489. As first introduced by Vogel, SB 1489 differs from SB 6016 by only 5 words. It's noteworthy that while Saslaw and Sherwood publicly attached their names to last year's SB 6016, Vogel alone is championing this year's SB 1489.
SB 1489 is a bad bill. It's a naked attempt by Vogel to interfere in active litigation, a point made clear by the headline posted on Vogel's own website: "Lake Holiday suit spawns legislation…." (Like most of the images on our site, click on the image itself to get a better view.) It's also unconstitutional on both state and federal grounds, because it attempts to retroactively change vested property rights.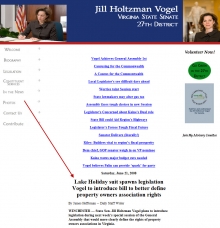 The prospect that a property deed can be rewritten
over the objection of owners
introduces a degree of uncertainty for any buyer contemplating a purchase in a community affected by Vogel's bill. Who would ever buy a property in such a community, knowing that the deed governing that property could be re-written? Vogel's bill allows "in whole or in part, any provision of a declaration" to be changed. Current upheaval in the financial markets has made clear one thing:
uncertainty destroys value
. No buyer would touch any property in a community affected by Vogel's bill because of the risk that the property deed could be changed in unforeseen and undesirable ways.
The irony: if Vogel's bill passes, it will destroy the property values of tens of thousands of Virginians, including those at Lake Holiday
. Vogel may not devote a lot of thought to the impact on the property owners she destroys as she
contemplates her move
to a $5.5 million mansion. When a buyer spends
that kind of money
, changing "any provision" of the property deed isn't tolerated.
It's no surprise that Vogel's bill will have significant unintended consequences on tens of thousands of Virginians, consequences that Vogel lacks the expertise to properly evaluate. By her own admission, she's not an expert on property law. She also has a record of distorting the facts in a desperate attempt to make her case. For example, the articles on Vogel's own website refer to her claiming there are "more than 9,100 property owners associations across Virginia…." According to Virginia's own Department of Professional and Occupational Regulation, there are only 3148. One doesn't command very much knowledge in the field of Virginia property associations when one doesn't even know how many of them actually exist. If Vogel had a basis to claim there are more than 9100 associations that would be impacted by her proposed legislation, that is all the more reason why her changes should be carefully studied rather than hastily enacted into law.
Vogel's own website refers to her observing that:
similar problems regarding the language in the act are likely to raise issues with each of the other 9,111 property owners' associations throughout the state.
In the entire history of Virginia's POA Act since it was first enacted in 1989, there have been only 3 Virginia Supreme Court cases that challenged whether the Act applied to a homeowners' association, and 2 of those cases involved the same community. Vogel's notion that the state is full of "similar problems" is a distortion that isn't supported by almost 20 years of legislative and judicial history.
The most blatant of Vogel's distortions – one she made to her own colleagues in the Senate – is her false claim that plaintiffs support her effort:
I explained that some of the plaintiffs [in the lawsuit against Lake Holiday Country Club Inc.] were overall good with it.
To be absolutely clear, the plaintiffs in the case are opposed to both of Vogel's bills and are strongly against her effort to permit retroactively re-writing property deeds. In Vogel's words, plaintiffs are not "overall good with it" as she falsely claimed. Through their counsel, plaintiffs in the case unambiguously communicated this strong opposition to Vogel herself. Following the original publication of Vogel's statement, plaintiffs' counsel demanded to Vogel that she publicly retract this obvious lie, but to date Vogel has not done so. Instead, she re-published the lie on her website.
Along with Vogel's bad facts and distortions, in its present form SB 1489 contains an emergency clause. Since other associations aren't storming to Richmond to fix a non-existent problem, the emergency to which Vogel refers must be that the plaintiffs in the case have filed their brief with the Virginia Supreme Court.
Curiously, Vogel's web site includes 3 articles describing her efforts to introduce 2008's SB 6016, but there's no mention of that bill's ultimate fate. SB 6016 failed to become law, a failure that took 4 days to come about.
At the June 26, 2008 meeting of Virginia's Housing Commission, where SB 6016 met its fate, the only members of the public to speak on that bill were representatives and lawyers for the parties in the Lake Holiday case – the very case Vogel claims her bills don't target.
One of the lawyers who argued in favor of SB 6016 at that meeting was Bob Diamond, an attorney from Reed SmithPresidents Club of the Community Associations Institute. Diamond has played an important role in pushing for the legislation Vogel has introduced. One wonders if Diamond is using his position to claim to have identified a non-existent problem and propose a fix solely to advance the interest of his client. His client is a party in the very lawsuit Vogel's legislation targets.
If the history of sequels is any guide, the future doesn't bode well for Jill Vogel and her SB 1489. As Entertainment Weekly observed on the subject of sequels:
…[S]ome are so ill-conceived, so cynically calculated, and so aggressively inept that they need to be called out and held accountable in the public square.
Every property owner in Virginia needs to work hard to see that Vogel's sequel suffers a defeat more swift and resounding than her failed original.
To track the outcome of SB 1489, visit Virginia's LIS System. To see the reactions of other Virginians, check out Richmond Sunlight.