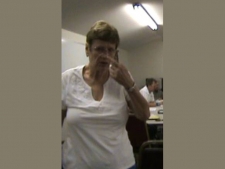 On June 21st, LHCC's board of directors held a special meeting to discuss their recently announced
Utility Extension Program
(UEP). The audience was filled with the likes of former LHCC directors Frank Heisey, Harriet Smith, and Tom Wallace. Apparently, no Membership Lot owners showed up, which is thoroughly understable in light of the treatment they've received by LHCC's board. Besides, since meaningful participation is only available to board cronies, virtually no one shows up anymore.
With the freedom to talk amongst themselves, board insider to board insider as it were, LHCC VP Dave buermeyer read a presentation full of unpleasant thoughts: judgments, foreclosures, and worthless Membership Lot values. Despite the fact that 3 people at the meeting raised the notion that Membership Lot owners are "of the opinion that they've already been screwed and continue to be screwed," to use the words of Tom Wallace, the meeting was dominated by talk of future foreclosures. All of this nastiness prompted Tom Wallace to state the obvious: Membership Lot owners should not hear this information. He warned Dave Buermeyer about what not to communicate to Membership Lot owners:
[ Tom ] I don't think you want to show them this pitch. [ Dave ] Right. Right.
Even though Dave Buermeyer doesn't think it's a good idea for Membership Lot owners to see and hear this pitch, we think it's a terrific idea. His pitch to current and former board members makes crystal clear that LHCC's proposed UEP is nothing more than a brazen land grab. The mindset behind what the LHCC board has in store for "those people over there," as Harriet Smith referred to Membership Lot owners, is disgusting.
Rees Broome had our collections practice up until a few days ago. They were not being successful at anything. We have given our collections practice to a brand new law firm, Segan Mason & Mason, John? Segan, Mason & Mason. They have taken over all collections activity. I've met with Donna Mason who is running that practice for us a couple of weeks ago here. Donna is very pessimistic about any ability to forcibly take over or to collect from Membership Lots. The proposition is just not a payoff proposition.
According to Wayne poyer, under the present circumstances and the present deeds of dedication, LHCC just can't "forcibly take over" Membership Lots fast enough. It's just not a payoff proposition. But if the UEP is approved, all that will change because Wayne Poyer will "go after" Membership Lot owners. This was clear from the outset of the meeting, when Wayne Poyer answered a question from former LHCC President Frank Heisey:
Let me try it again on why we think there will be a high degree of participation, Frank. If there's not, we will go after Membership Lot owners much more aggressively through foreclosures and through judgments.
Since there were no Membership Lot owners in the room, Wayne Poyer didn't have to worry about the menacing sound of the phrase "go after."
Chris allison and Wayne Poyer have been at the helm while lot values have been destroyed. According to Wayne Poyer, Membership Lots have "virtually no value today – even less than they had a few years ago." Amazingly, they neither attribute this to their decisions nor do they change course.
I've told you that our collection people are very pessimistic about Membership Lots and the ability to collect against them and that's because they have virtually no value today – even less than they had a few years ago. The value…there's not sufficient value in a lot to justify going after it. As soon as we launch this program, those Membership Lots will instantly have sufficient value to make it worth going after them.
Wayne Poyer lays bare his own logic: we can't foreclose at a rate to satisfy our property lust now, because our attorneys have told us it's not enough of a payoff proposition. But as soon as we launch the UEP, it will be worth going after them. And go after them we will! We'll aggressively go after them through foreclosures and judgments. Such spine-tingling neighborliness!
As a final thought, we're awestruck by Wayne Poyer's comment about the ineffectiveness of Rees Broome. During 2006, Chris Allison and Wayne Poyer occupied the LHCC presidency. In that time period LHCC spent over $83,000 on legal fees for collections, much of it paid to Rees Broome. What does it say about Chris Allison's and Wayne Poyer's leadership skills to spend $83,000 and, in the words of Wayne Poyer, not be successful at anything? Chadwick Washington, LHCC's former collection counsel, was fired in March of 2006, and Rees Broome took over at that time. That means that Rees Broome was handling collections for over 14 months. What competent leader spends over $83,000 and takes over 14 months to realize he has not been successful at anything?
Perhaps someone who is just wasting the money of "those people over there" and is not really a leader at all?