Here's a memo from LHCC's former attorney, Steve Moriarty, to Howard Cihak, LHCC's former GM. The topic: running water & sewer throughout Section 8A.
The plan then under discussion ran something like this:
convince lot owners to give their lots back to LHCC
LHCC runs water & sewer to all lots in the section
Selling the lots at "substantially higher prices"
The little wrinkle that would make this scheme work? Not candidly disclosing the plan to lot owners being asked to give their lots back to LHCC. As Moriarty himself said:
…[p]ublic disclosure of this plan would jeopardize its full potential.
The other complicating factor: the "buyer" would be represented by "directors who owe a fiduciary responsibility to the seller."
In the end, Moriarty advised that it was a "brilliant way to take advantage of assets…." Are membership lot owners "assets" to be taken advantage of? Keeping in mind that LHCC was considering withholding utility extension plans from people it had a fiduciary obligation to serve and protect to get them to act against their own self interest, is it any wonder LHCC leaders were checking with their lawyer on the law of fraud?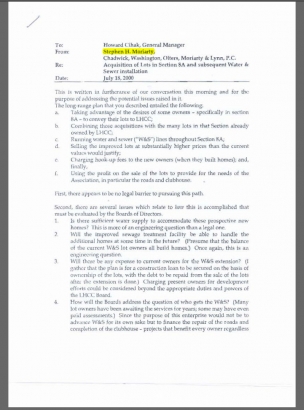 We've covered LHCC's longstanding shabby treatment of membership lot owners. In June of 2007 Wayne Poyer wrote that LHCC was "very aware of the troublesome plight in which Membership Lot owners find themselves. It only makes sense that LHCC has such awareness of that plight, because the organization Poyer leads schemed for years to manufacture it.
With a history and leadership like this, is it any surprise the community is plagued by problems?