There's an active discussioncertain lots taking place on Bill Master's website.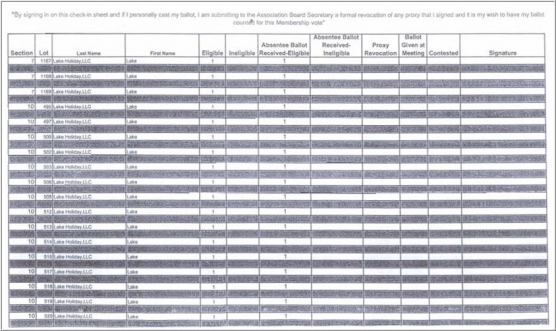 Some of this discussion involves the 1984 Settlement Agreement, which may seem like a document from ancient history to many Lake Holiday members. Despite its age, this document is important to the current functioning of the Association.
This agreement settled a lawsuit that the Association brought against Independence Land. The preamble of the document makes this clear:
WHEREAS, the Country Club initiated an action against Independence Land in the Circuit Court of Frederick County….
According to the then-President of the Association who signed the agreement, the purpose of this settlement was to empower the Association to extend utilities and build roads to undeveloped lots. To accomplish this, Independence Land transferred ownership of hundreds of Lake Holiday lots to the Association. The Association sold some of these lots to finance improving undeveloped Membership Lots. As just one example, the lots in Section 4A and 4B were Membership Lots at the time the Settlement Agreement was signed in 1984. Today, most if not all of these lots are on paved roads and served by utilities; many are occupied by homes. To this day, LHCC retains ownership to a large number of Membership Lots as well as a handful of buildable lots.
In 1984, with the community largely unfinished, the Settlement Agreement insured that the community would remain member controlled by stipulating that Independence Land and its successor is not even a member of the Association by reason of ownership of the Trust lots. Because it is not a member, it does not pay dues for these lots. Dues are an obligation of members and follow membership. voting in the affairs of the Association is a right of members. Payment of dues does not confer a voting right. Membership in the Association confers that right, and by the terms of the Agreement Miller & Smith as successor to Independence Land is not a member of the Association. To further illustrate this point, records of the Association reflect that there have been dues-paying individuals given certain benefits, but these individuals were not members and therefore were not considered for voting eligibility.
For nearly 22 years, Independence Land and its successor Miller & Smith have not been members and have not paid dues. No dues were paid when the Association had no money in its bank account and the Utility had no water in its pipes. Does it seem fair that Miller & Smith can pay dues just before an election to establish membership and dominate the affairs of the Association? How do board members reconcile allowing non-members to vote with honoring their fiduciary responsibilities?
The outrage in the community has caused some members to contact the Attorney General as well as the Frederick County courts. Fueling this rage is the fact that events like allowing non-members to vote have become all too common in Lake Holiday's recent history. A poster on Bill Master's website sets this forth in eloquent detail: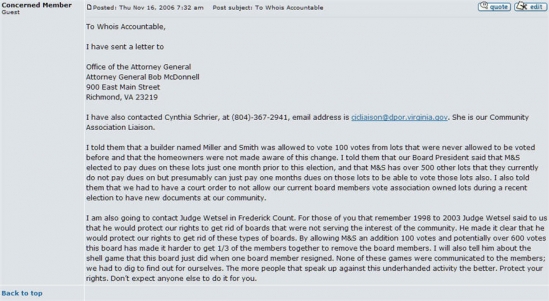 We encourage and support those members of the community that have initiated their own actions to right this wrong. We will take action as well.
We'll post further information shortly on how you can support and participate in these important efforts.