In case anyone needed further proof that the LHCC board thinks Membership Lot owners don't count, they got it with LHCC's efforts to change the Utility's tariff.
On November 3, 2005 LHEUC announced an increase to its rates. But that's not all they tried to do. In addition to these rate changes, the company's notice proposed a major change to Rule 16, a provision of the company's tariff filed with with the Virginia State Corporation Commission. Rule 16 applies to extensions of mains, something of vital concern to Membership Lot owners that do not have utility service.
The proposed change to Rule 16 is not a subtle change by any stretch of the imagination. It's an attempt to completely remove the obligation to serve new customers. Under the Utility's tariff, Rule 16 stated that LHEUC:
will extend its water distribution and sewerage service systems of mains and laterals to supply consumer….
This rule in substantially this form has been in effect since LHEUC's inception – or more than 30 years. The most recent copy is signed by John L. fastnaught, then president of LHEUC, and accepted by the SCC in December of 2002. So Rule 16 is not something new or something that was unknown to the management of Lake Holiday.
LHEUC proposed a dramatic change to this rule in its November 2005 notice. The proposed new Rule 16 is:
The Utility Company is not responsible for the installation of additional water and sewer lines.
The message to Membership Lot owners is clear: since you don't count, we're not responsible to get you utility service. Unlike the description of the change in rates, the proposed change to Rule 16 did not include the current version of the rule so that a reader could properly consider the nature and impact of the change. And Rule 16 is the only non-rate related rule that LHEUC sought to change. The new rule would completely strand Membership Lot owners. Existing deeds of dedication for Lake Holiday require Membership Lot owners to get utility service from LHEUC, but if the proposed change takes effect, LHEUC would have no obligation to serve them.
The company did not even bother to provide this notice to Membership Lot owners – the very members most affected.
That message has really got to hurt: you've paid your dues for years – maybe over 30 years – but you're not worth the price of a postage stamp to tell you that you don't count. Ouch.
But can LHEUC really wipe out a long-standing obligation to serve Membership Lot owners at Lake Holiday with a simple letter it wrote containing the words "not responsible" – that it didn't even mail to them? We don't think so.
Take a look at the email from the SCC on this very point.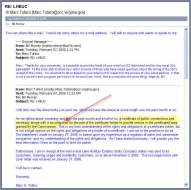 Obligation. That's a strong word.
LHEUC's attempt to take away this obligation prompted us to do 2 things. First, we made other Membership Lot owners aware of this proposed change – something Lake Holiday should have done on its own. Second, we encouraged them to join us in complaining to the SCC that this proposed change to Rule 16 wasn't properly noticed and wasn't fair.
Together, hundreds of Lake Holiday members have filed written complaints with the SCC.
The topic of Rule 16 is not complete without addressing 2 issues.
Firstly, there are many Membership Lot owners who don't want utility service now, and that's fine. Preserving Rule 16 is not about forcing Membership Lot owners who do not want utility service to accept it or pay for it. Rather, it's about protecting the right of those who do want utility service and insuring that all Membership Lot owners enjoy that right in the future.
Secondly, Rule 16 does not mean that line extensions are free to the lot owner that requests them. Rule 16 contains provisions that provide for a cap on the Utility's contribution to the cost of any line extension. If a lot owner requests utility service and the reasonable cost of the line extension exceeds that cap, the lot owner can still get utility service – provided he deposits the difference between the reasonable cost of the line extension and the capped utility contribution. For all practical purposes, that requirement insures that lot owners will request line extensions only when they can be done at a reasonable cost. The tariff approved by the SCC is not a recipe to bankrupt LHEUC. It is a fair mechanism to have the Utility contribute a limited amount of money to bring new customers on-line and thereby further strengthen the Utility's resources.