Bill masters, a longtime Lake Holiday resident, has sent an email to John martel, LHCC's Treasurer, and most of the other LHCC directors. His email addresses a topic important to us all: money. He makes a request for additional documents and asks to get answers to certain questions.
The issues raised in the email will be shocking to most LHCC members, including:
income tax liabilities in excess of $426,000 plus penalties and interest over $110,000
borrowings of over $340,000 from wachovia
borrowings and payables that exceed cash by over $264,000
legal costs of over $558,000 that have nothing to do with defending lawsuits
utility sale proceeds far below that reported to members
spending in excess of budget for many items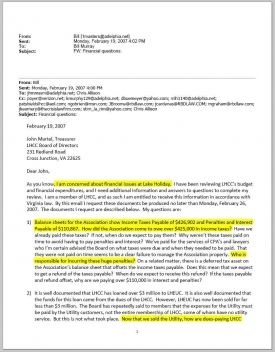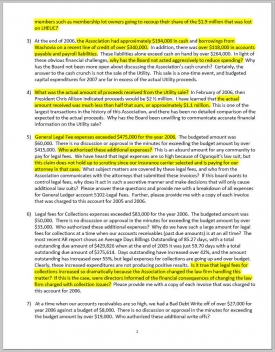 Some of the dollar amounts in the email boggle the mind. The Board seems to have lost track of the fact that they should be managing a simple HOA, not a Fortune 500 company. For example, general legal expenses for 2006 exceeded $475,000 – that's almost half of a million dollars! These expenses do not relate to defending the Association in lawsuits, since its insurance carrier provides and pays for that representation. And these expenses do not include legal fees for collection of delinquent accounts, because the Association spent more than $83,000 in this area. Are these fees so high because of the abrupt and emotionally-charged switch from Moriarty to Rees Broome? In all, lawyers collected more than $558,000 from LHCC's members. At $300 per hour, that's essentially paying for a full time attorney throughout the year. That's ridiculous.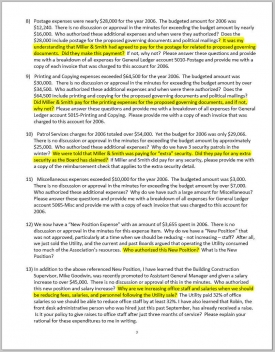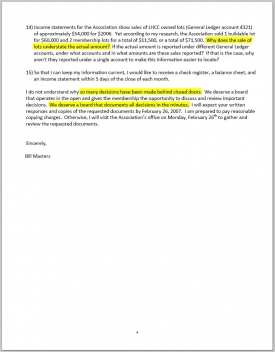 Some of the amounts are far different than what the LHCC Board has generally reported. For example, as the email points out, in February of 2006 Chris allison sent a letter to members in which he said the utility sale proceeds would be $2.5 million. Apparently, the actual number is less than half that projected amount. Wayne poyer didn't mention any of this when he celebrated the utility sale.

 Loading ...
Masters points out that many expenses for 2006 far exceeded the budgeted amounts, and there's no approval for these increases in the board minutes. All of this occurred at a time when LHCC was facing dwindling cash. Was the Board aware of this excessive spending? Did they do anything to control it? Does any of this sound like strong fiscal management on the part of Martel?
The questions raised in Masters' email are serious. They deserve honest answers. Let's hope that John Martel responds to each of these questions in detail. Let's hope that every member of the LHCC Board gives the community some honest answers and refrains from simply attacking those stand up and ask tough questions.