The 2006 budget for LHCC projects that Membership Lot owners will pay over $400,000 in assessments this year. By the end of the year, Membership Lot owners will have paid almost $1.2 million in the 3 years period from 2004-2006. Add in over $200,000 in capitalization fees paid on the sales of Membership Lots in the period of 2004 through the end of March, 2006, and the Association has received over $1.4 million from Membership Lot owners in the recent past.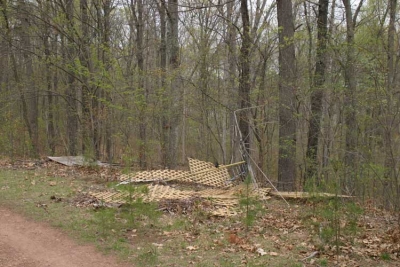 Sadly, that picture is a painful symbol of what they've received for so much money. In some cases their lots are treated like a common dump.
In the May 2005 newsletter, LHCC board member Dolores Smith had these words of consolation for Membership Lot owners:
LHCC and its Board of Directors have always had in mind the plight of the membership lot owners. Unfortunately, the governing documents of LHCC provide no legal authority to work with the membership lot owners to address the situation. That is one of the major objectives the Board is trying to accomplish with new governing documents.
In response to questions from Membership Lot owners, Chris allison has been offering up nearly identical words.
Who in their right mind thinks that there is some legal blockade that is stopping Ms. Smith or Mr. Allison from spending the money paid by Membership Lot owners to improve their lots?
If the Board really were unable to improve Membership Lots, why did they collect dues all of these years? What were the funds of Membership Lot owners used for? Some Membership Lot owners are local, and some use the lake for recreation. But hundreds of Membership Lot owners live far from Lake Holiday and haven't visited in years. Common sense says they don't visit because they see too many painful reminders of their poor treatment. Membership Lot owners have been easy victims.
Ms. Smith's words show that the plan to disadvantage Membership Lot owners has not stopped. Ms. Smith says the board is trying to address the plight of Membership Lot owners with the new governing documents. Paragraph 6.2.4 on Page 23 of the proposed amended declaration shows exactly how she and her fellow board members feel the plight should be addressed:
The Board of Directors shall have the power to assess a Membership Lot individually…to deliver utility service or provide access by road to a Membership Lot….
In other words, we can't use the monies you've already paid to improve your lot. We want you to sign a document that gives us the power to send you another bill – making you pay again what you've already paid for! Given how the Board has treated Membership Lot owners to date, who knows how big that bill would be?
Ms. Smith alludes to some "legal authority". We'll quote one. In an earlier case against Lake Holiday, the presiding judge, the Hon. John E. wetsel Jr., had these words of advice for Stephen moriarty, formerly the counsel for LHCC:
Has the system of 'those persons who do not have sewer and water service to their lots…subsidizing the sewer and water service of those owners who do have sewer and water service' been corrected or is it being perpetuated? If the charge is not reasonably related to the service provided, it is an unlawful charge.
How do Ms. Smith's words square with the Judge's words?
Her words just remind us of that picture. It's a picture we can't get out of our minds.